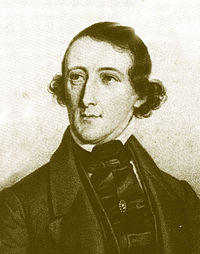 Bournonville Thechnique
You are probably familiar with classical ballet mainstays such as Swan Lake, Giselle, and The Sleeping Beauty.
What about La Sylphide, which tells the tragic tale of a beautiful sylph who falls in love with a mortal man? La Sylphide is perhaps the most internationally famous representative of classical Danish ballet. Its choreographer, August Bournonville, is the creator of a distinct style and was so prolific as to have engendered the 'Bournonville school' or 'Bournonville ballet'.
Bournonville, The Choreographer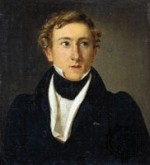 August Bournonville was born in Copenhagen, Denmark, in 1805. He studied there and in Paris, where he danced with the famed Marie Taglioni. He then became a soloist with the Royal Danish Ballet and eventually served as its balletmaster. He remained there until the end of his life, in 1879, having made 50 ballets for the company in the unique style he'd created from his studies in the Italian, French, and Danish schools.
What characterizes Bournonville movement?
One of the first things you will notice when watching a Bournonville ballet is that there are very few, if any, lifts, and the dancing is very much characterized by the use of petit allegro (fast, intricate footwork with small jumps). Unlike other styles of ballet such as the Russian Vaganova method, a Bournonville dancer will keep her eyes slightly lowered, so that the overall appearance is that of graciousness. Special attention is paid to the arms, which are shaped round and held evenly when executing fast footwork and large jumps. Bournonville believed that dancing should be understated, graceful, and light. Harmony between the dancer and the music is essential, and the dancer must be directly on top of the beat of the music. There is very little leeway for rubato, or the rhythmic freedom to speed up or slow down one's movement. This is not to say that Bournonville ballets are not expressive. On the contrary, the interaction between dancers in a Bournonville ballet showcases subtle and intimate interplay. Whether watching two young people tease each other sweetly and fall in love in The Flower Festival of Genzano or reveling with an entire Italian seaside village dancing the tarantella in Napoli, Bournonville's ballets are brimming with life.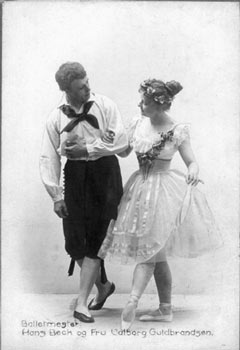 Bournonville Today
In an era of sky-high extensions and dazzling turns and jumps, Bournonville ballets may not seem exciting enough at first glance, especially for those who may not have studied them. It is truly a travesty to underestimate the beauty and difficulty of these dances. Bournonville's ballets continue to be performed throughout the world and the Royal Danish Ballet upholds the Bournonville style as one of its proudest traditions. However, in the United States it is rare to find one listed on a major ballet company's season offerings. Let us hope that the Bournonville ballet will remain a permanent part of classical ballet's repertoire, and that more dancers and audience members alike will take a closer look and fully appreciate not only its technical demands, but allow themselves to be swept up in the infectious celebration of life it presents.
Source: http://www.danceadvantage.net/bournonville-basics/